Contagion - A psychoanalytic discussion of Soderbergh's film
July 15, 2021, 7:30 - 9:30 PM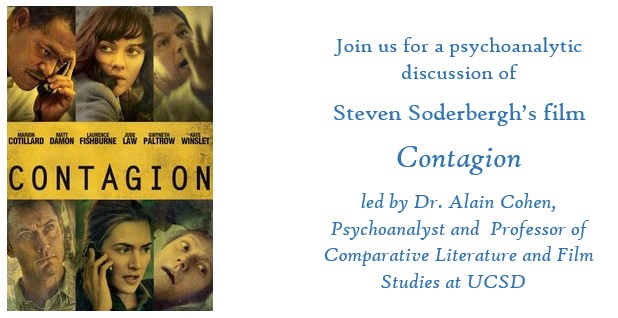 NCP is pleased to present Professor Alain J.-J. Cohen (a practicing member of the San Diego Psychoanalytic Institute) for a discussion of Steven Soderbergh's film Contagion (2011, 1 hr, 46 min).
Contagion--starring Matt Damon, Kate Winslet, Marion Cotillard, Gwyneth Paltrow, Jude Law and Laurence Fishburne--is an extraordinary film, artfully dramatizing how a pandemic affects, and could tear, the fabric of civil society.
Dr. Cohen will exhibit selected clips from the film and go deeper into the interweave of film technique and psychoanalysis for this presentation. He recommends that the film be pre-viewed prior to the event, as it will not be shown in its entirety.
The program will feature an introduction by Thomas Brod, MD, and Q & A led by Heather Silverman, MD, and Mike Gales, MD.
Alain J.-J. Cohen, PhD  
Professor of Comparative Literature and Film Studies at the University of California, San Diego, where he has spent his career, Alain J.-J. Cohen has a pluri-disciplinary and multi-national formation in clinical and theoretical psychoanalysis (from Freud and Lacan to today's multiple schools of psychoanalysis), film studies, the history and analysis of cinema, aesthetics and philosophy, literary theory, semiotics (C.S. Peirce, A.-J. Greimas, to the present), and art history. Through his teaching and research, Cohen has been dedicated to the dissemination of (1) psychoanalysis, (2) cinema studies and (3) semiotics. His compelling presentations have drawn the attention of academic and psychoanalytic audiences worldwide. More about Dr. Cohen and a list of his publications available here: https://literature.ucsd.edu/people/faculty/ajjcohen.html
---
There are no CE/CME Credits for this event.
You will receive the Zoom meeting link when you register below.