Roots and Uprootedness: Tracing the Cultural and Social Impact of Early Women Pioneers of the Psychoanalytic Movement
June 10, 2021, 7:00 - 9:00 PM
Grete Bibring, Helene Deutsch, Dora Hartmann, Marianne Kris and Jenny Waelder-Hall
Presented by Klara Naszkowska, PhD
The talk examines the personal and professional biographies of five remarkable women of the Black Cat group, each of them at the forefront of the prewar psychoanalytic movement in Vienna and then decisive in shaping the development of Freudian theory and practice in the United States. Grete Bibring, Helene Deutsch, Dora Hartmann, Marianne Kris and Jenny Waelder-Hall, their contributions notwithstanding, are now neglected and at risk of being forgotten.
The talk is a prologue to the larger project The Forced Migration of Jewish Women Psychoanalysts from Europe to the United States (1930–1941): A Personal, Interpretative and Documentary History. The aim of the project is to reclaim and reconstruct their life stories and their complex multiple identities as women, Jews, pioneers in psychoanalysis, German-speaking emigrants, mothers and more, by utilizing the methodology of a cultural, social and personal historian. Gaps in present knowledge about the five women will be bridged with information from two types of sources: historical documents and documents of personal history. By bringing oral histories to attention—an approach that remains quite new and underexplored—Dr. Naszkowska intends to permit these women's voices to be heard.
---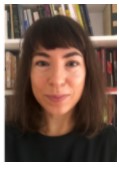 Klara Naszkowska, PhD
, is a cultural, social and personal historian specializing in the early history of psychoanalysis; 2021/2022 & 2020/2021 Visiting Scholar and 2019/2020 Fulbright Visiting Scholar at Union Theological Seminary; and Founding president of the International Association for Spielrein Studies (
www.spielreinassociation.org
)
. Dr. Naszkowska is currently researching and writing a book on émigré Jewish women psychoanalysts to the United States in 1930-41 and teaching on the subject. To sign up for a course in the fall, visit 
https://www.womeninpsychoanalysis.com/
.
---
There are no CE/CME Credits for this event.
You will receive the Zoom meeting link when you RSVP below. 
Even though there is no fee for this event, please complete all registration pages until you come to the final "Receipt" page. This will ensure the confirmation email with the meeting details is sent to you.
This event will be recorded and shared with participants who have registered for the event. The video may also be used for educational purposes. If you do not wish to be recorded, please turn your camera off. By registering for this event, you grant permission to THE NEW CENTER FOR PSYCHOANALYSIS to the rights of your images, in video or still, and of the likeness and sound of your voice as recorded on audio or video.